SPECIAL INTRO OFFER BELOW
APPETITE STIMULATING WEIGHT GAIN PILL!
• Increases Appetite Stimulating Hormone Ghrelin
• Enhances Digestion and Nutrient Absorption
• Optimizes Anabolic and Ergogenic Effects of Food
• Increases Total Food Consumption and Calories
Limited Time |OFFER ENDS SOON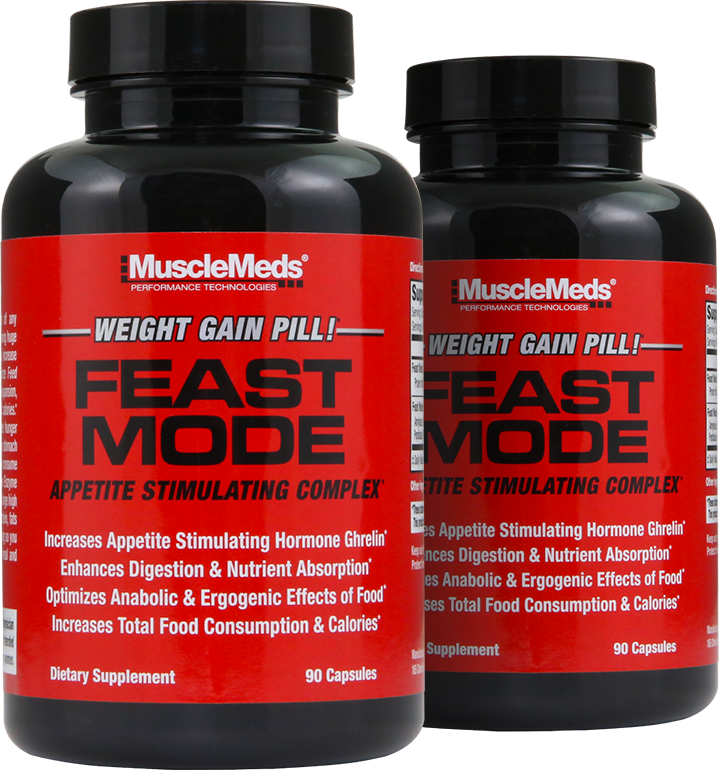 WEIGHT GAIN PILL
WITH BREAKTHROUGH
FORCE FEED TECHNOLOGY
FEAST LIKE A BEAST! The most critical component of any mass-building or weight gain program is to ensure that you are consuming large amounts of calories, protein, fats and carbohydrates to increase muscle growth and body weight. FEAST MODE's Force Feed Technology activates key regulators of hunger, gastric expansion, and digestion to allow you to consume more food and calories.
FEAST MODE enhances your appetite by increasing the hunger hormone Ghrelin and relaxes gastric muscle tissue of the stomach to increasing stomach volume and delay fullness so you can consume more food. Plus, FEAST MODE's Bioengineered Digestive Enzyme Complex is specially designed to improve the digestion of large high calorie meals and enhance the nutritional uptake of protein, fats and carbohydrates. It also helps speeds stomach emptying so you feel hungry faster and are ready to devour your next meal and continue the force feeding required for massive gains!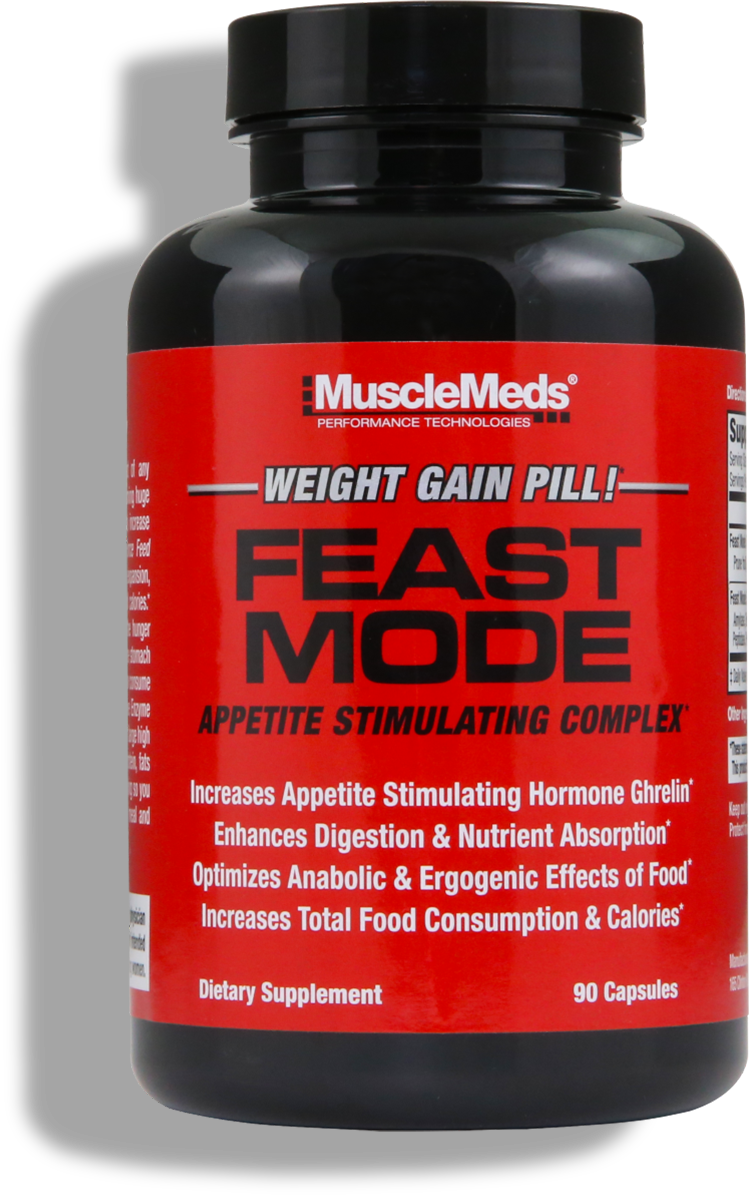 Limited Time |OFFER ENDS SOON
Limited Time |OFFER ENDS SOON
Muscular Development magazine
Supplement Spotlight
---

FEAST MODE gives you the power to feast like a beast and consume the calories you need to unlock new muscle growth.
---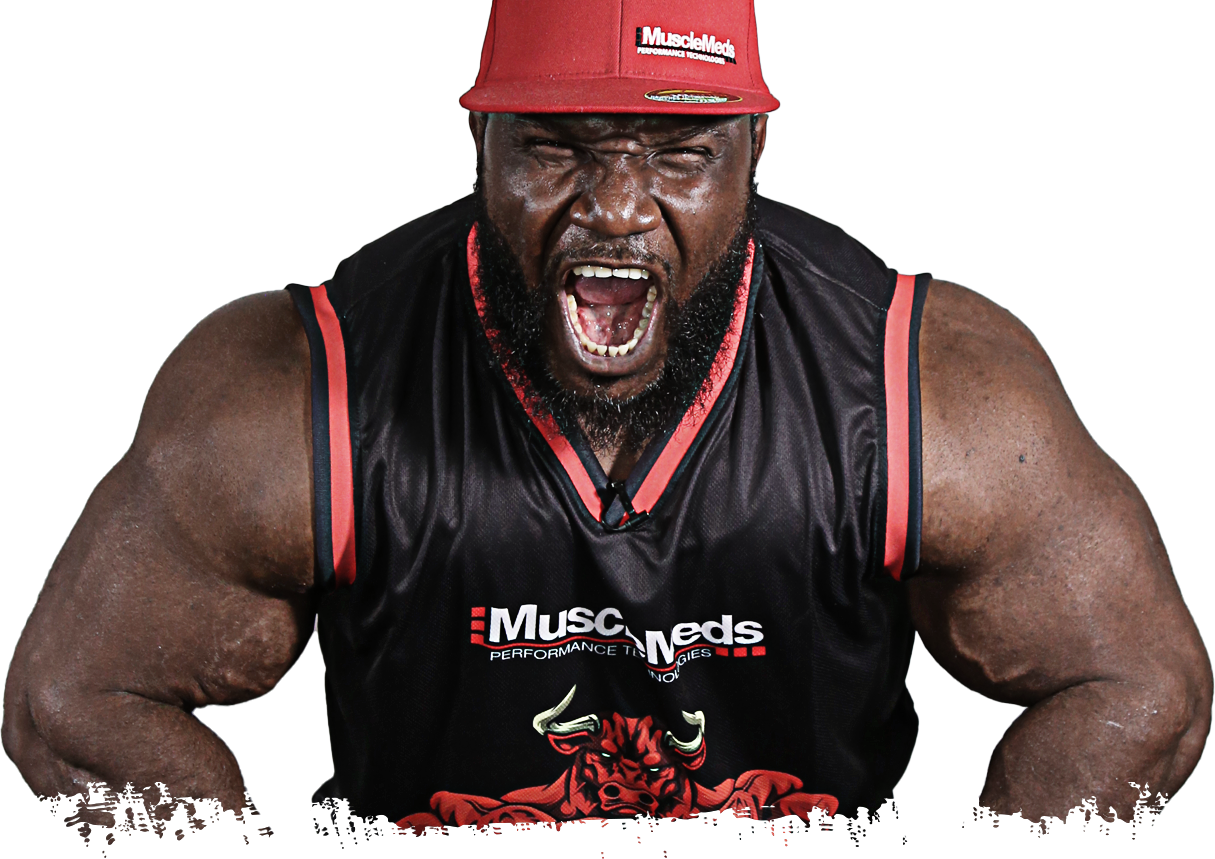 ---

Maintaining my caloric intake is key to building mass. Feast Mode helps to fuel my appetite, helping me to fuel my body! Another banger MuscleMeds!!

- Akim Williams
Feast Mode is a weight gain pill designed to help both men and women gain more weight by increasing their appetite and improving their ability to consume larger meals and digest them more efficiently.
HOW DOES FEAST MODE WORK?
Feast Mode uses an advanced Force Feed Technology that regulates key regulators of hunger, gastric expansion and digestion.
It uniquely helps increase the hunger hormone Ghrelin.
It relaxes the smooth muscle tissue of the stomach so you can eat larger meals.
It improves the digestion and assimilation of meals to help you eat more food and also allows you to get more nutritional value from the foods you eat.
---
IS FEAST MODE STRICLTY FOR BODYBUILDERS AND ATHLETES?
While Feast Mode is an ideal supplement for athletes looking to gain mass, it is also ideal for anyone who has a hard time gaining weight. Many people, both men and women, have ectomorph body types and have a hard time gaining weight and muscle. Ectomorphs need to consume a higher number of calories to gain weight to compensate for their fast metabolism.
WHEN SHOULD YOU TAKE FEAST MODE?
This depends on the individual. Some people have better appetites in the morning and tend to feel less hungry in the afternoon. For these individuals, taking FEAST MODE with their midday meal can help increase their hunger for the rest of the day. Another consideration is at what time of day you typically eat your largest meal. The key to weight gain is to eat more calories than you burn by increasing both the size and frequency of your meals. Taking FEAST MODE with your largest meal can help you digest it better and increase hunger faster for your next meal. FEAST MODE can be taken once or twice daily with meals.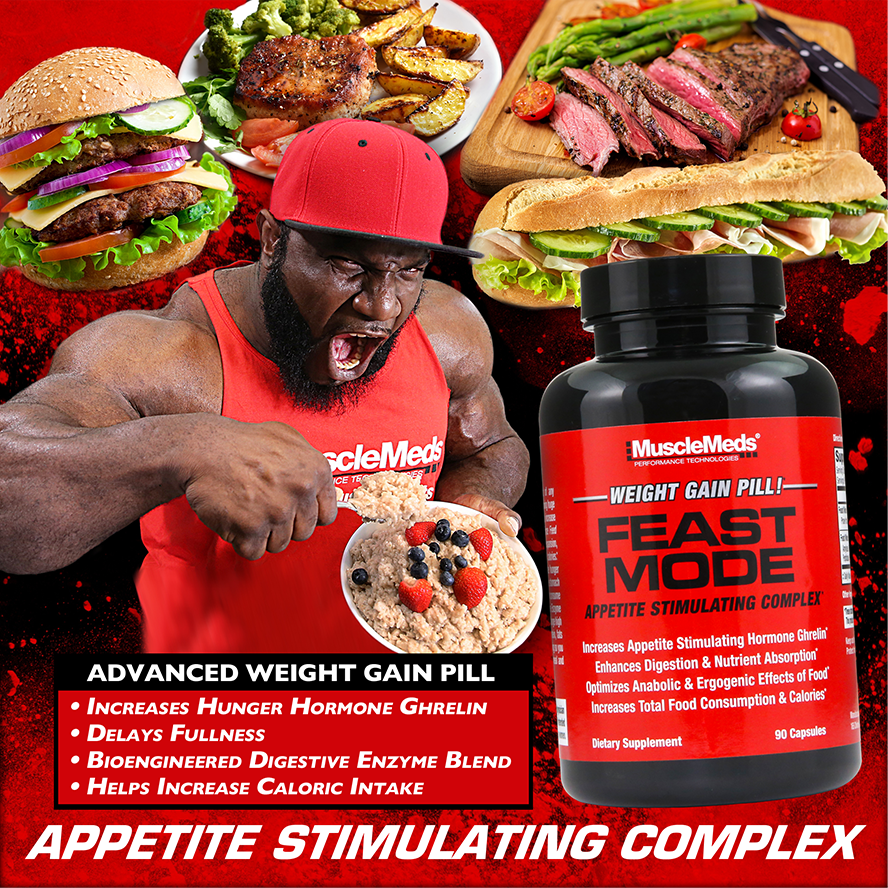 STEMTROPIN is at the forefront of stem cell science and muscle performance. New stem cell research has uncovered the important role stem cells have on muscle building and regeneration. This groundbreaking research and the discovery of natural stem cell activators opens the door for athletes to enhance muscle building, performance and recovery and may also be helpful in combating age-associated muscle loss.
STEMTROPIN contains clinically tested ingredients proven to significantly and rapidly increase the production of stem cells and the release of growth hormone both during your workouts and while sleeping for enhanced muscle building and recovery in as quick as two hours.